With rivers there is almost always a certain amount of logistics to work out. Where you want to put in and where you want to get out. Fast flow, or sections where it is very shallow mean it is often not really practical or possible to paddle upstream very easily so getting in and out at the same place means not much of a paddle. Sometimes though geography works in our favour. There is a section of the Wye where a very short car journey offers a decent length paddle thanks to the way the river meanders away from then back towards the road.
With the weather set to be glorious and paddleboard ownership booming, we loaded up the boards, dropped a car at the take out and drove a few minutes back up to the put in location. The river would without doubt be a popular place to head to on a roasting hot day so I did not want to leave it too late.
With the boards pumped, valuables stowed in waterproof bags, the dog took his position up front as lookout and off we set. The river was nice and calm. Low in places but for the most part navigable.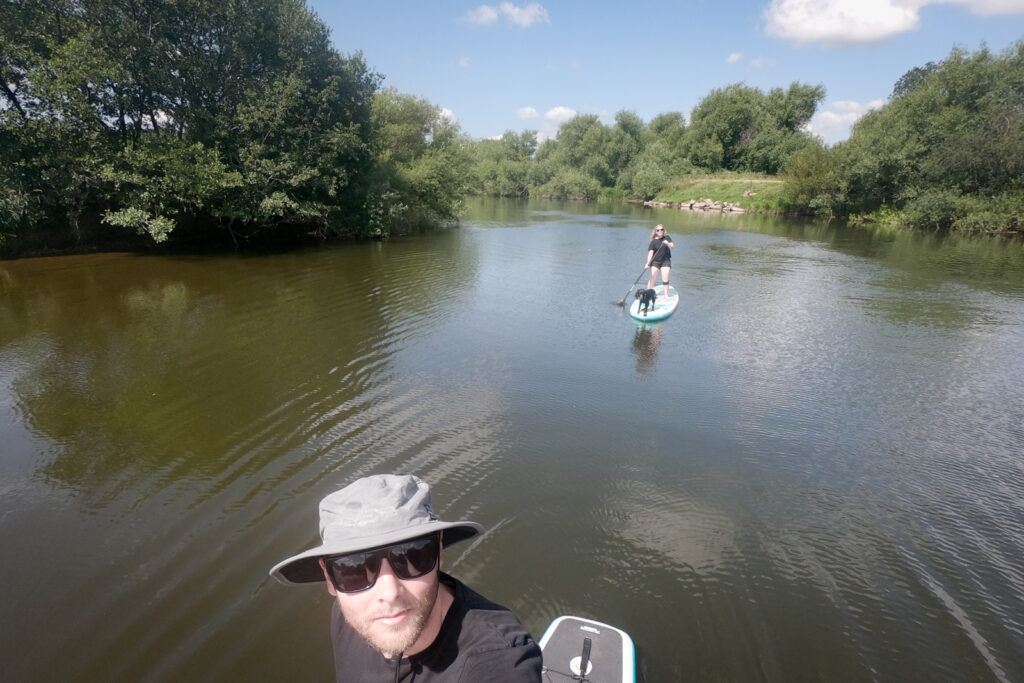 As we passed the more easily accessed parts of the river bank you could see people already out for a swim or paddle. We found a quiet spot to stop and cool off and let the dog race around before continuing.
After only seeing one other canoe on the water for most of the paddle, the last section approaching where we planned to get out was positively busy. First a kayak, then a couple of paddleboards, a couple more kayaks, then as we rounded the last corner the river was full of canoes, kayaks and paddleboards. Conditions were after all perfect for getting out on the river.